Collars - Martingales - luxury range
Our luxury martingale collars are made by Tracey, owner of Graphite Delight Pawtraits. Tracey is a Forever Hounds Trust supporter and she handmakes each collar with love, using good quality nickel hardware and a satin lining for that extra bit of comfort.
With a range of different ribbon designs and complimentary backing  and lining your hound will be smart, stylish and comfortable.
Designs may be rotated regularly and some will only be available for a short period.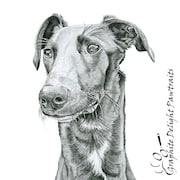 Showing all 8 results